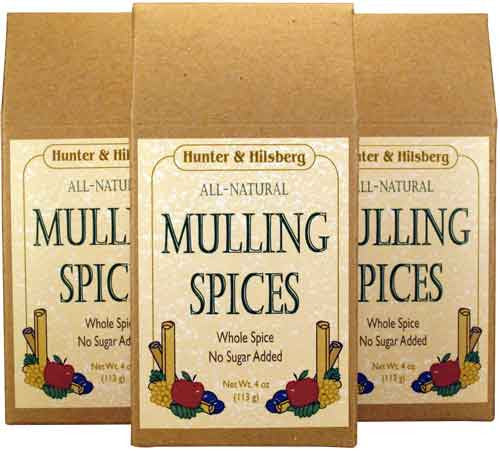 New England Mulling Spices
4 oz (110 g)
New England Mulling Spice is a popular spice mix used to simmer in apple cider or red wine, but it can also be enjoyed year-round as a cinnamon spice tea. Our traditional mulling spices contain NO SUGAR or artificial flavors. The spices are packed in a loose form, so that you may mull the spices the old fashioned way - alterning the quantity you wish to steep per batch. Great for making large batches of mulled wine or cider. Try these delicious blends:

- Heat apple cider or red wine, add a spoonful of the mulling spices and simmer over low heat. Remove or drain spices from the drink and fashion with a dash of cinnamon or orange peel.

- For a simple winter tea, just add a spoonful of our mulling spices to one liter of hot water (a tea pot that serves about 4 cups). We have found Mulling Spice prepared in this way serves a reliable comfort tea for sore throats, too.

- Some use it as the flavoring spice with maple syrup or honey when basting and slow-roasting ham, turkey or chicken.

Makes at least 8 quarts of tea, enough to steep several gallons of wine or cider. The spices come packed loose so that you may steep the quantity you wish.
Highlights

  •  all natural
  •  no sugar added
  •  packed loose to make selecting the quantity easier for steeping directly or in a tea strainer
  •  old fashioned, rough cut spices for steeping directly in hot cider or wine
  •  use to make delicious mulled wine, mulled cider, or a winter spice tea


Ingredients
  herbs and spices


Additional Information

  •  No artificial flavors
  •  No preservatives
  •  No MSG
  •  Gluten-Free
  •  Fat-Free
  •  Packaged in biodegradable box made from recycled paperboard
  •  Made in the U.S.A.


Allergen Information

If this product contains any known allergens they may be listed here:



The information on this page is to provide a preliminary overview and may not be up-to-date, accurate or complete! Rely solely on the individual product labeling that accompanies the actual product to review the ingredient listing and check for allergens or other product data that may be of concern to you prior to preparation and consumption.
Condition: new
---
---
More from this collection