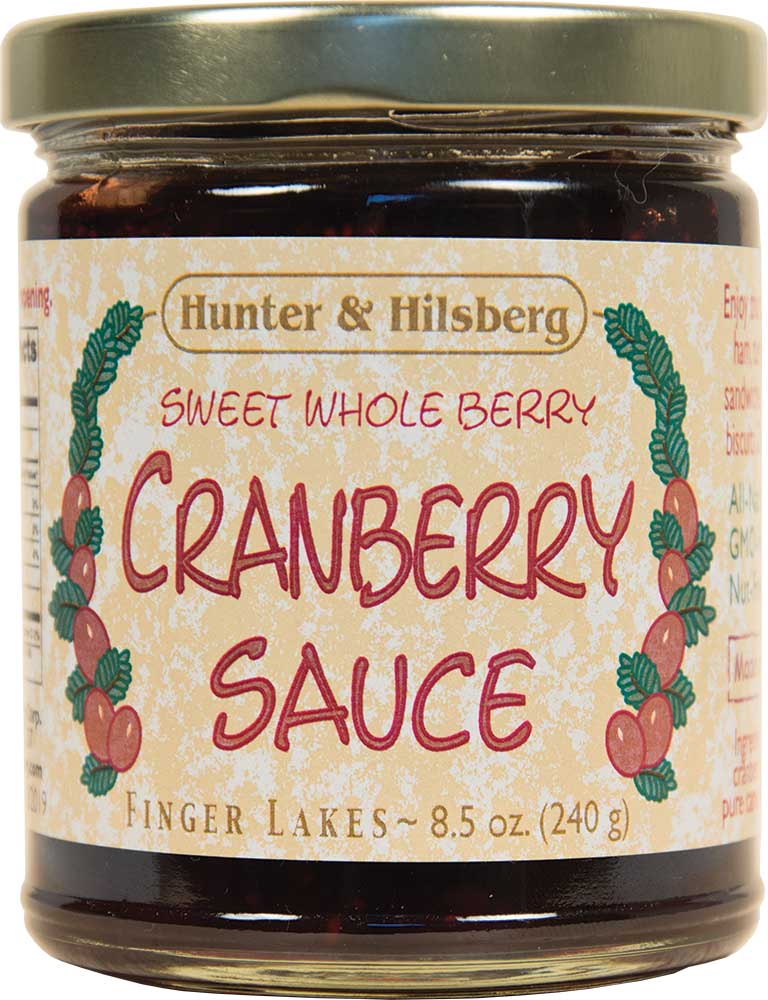 4-Pack: Cranberry Sauce (Sweet Whole Berry)
Set of 4 Jars - 8.5 oz each
Sweet Whole Berry Cranberry Sauce is the traditional favorite at family gatherings and holidays. There is nothing like the sweet and sour taste of cranberry sauce made with plump cranberries from Cape Cod. Try it as a:

- spread for bread, toast or bagels

- topping for baked cheeses, such as Camembert, Brie or New York Cheddar

- glaze for pork, chicken or turkey

- unique flavor addition for cooking with apples, pears or peaches

- easy filling to make cranberry pie

- simple ingredient for adding to muffins or gelatine

Of course, one of the most famous uses for cranberry sauce is as a side-dish to turkey, venison or duck! Our Cranberry Sauce is naturally fat-free.

Question: Why is it called a sauce if the texture is the same as marmelades or preserves? Reason: It's best known for being served alongside meats and cheeses as is traditionally done for sauces.
Ingredients
  Cranberries, Pure Cane Sugar.
Additional Information
  •  Gluten-Free  
  •  Vegan & Dairy-Free
  •  Grain-Free
  •  GMO-Free
  •  All-Natural
  •  No added flavors  
  •  No preservatives
  •  No MSG
  •  Packaged in recyclable glass
  •  Made in the Finger Lakes Region


Allergen Information

If this product contains any known allergens they may be listed here:



The information on this page is to provide a preliminary overview and may not be up-to-date, accurate or complete! Rely solely on the individual product labeling that accompanies the actual product to review the ingredient listing and check for allergens or other product data that may be of concern to you prior to preparation and consumption
UPC:  180001001173
Condition: new
---
---
More from this collection