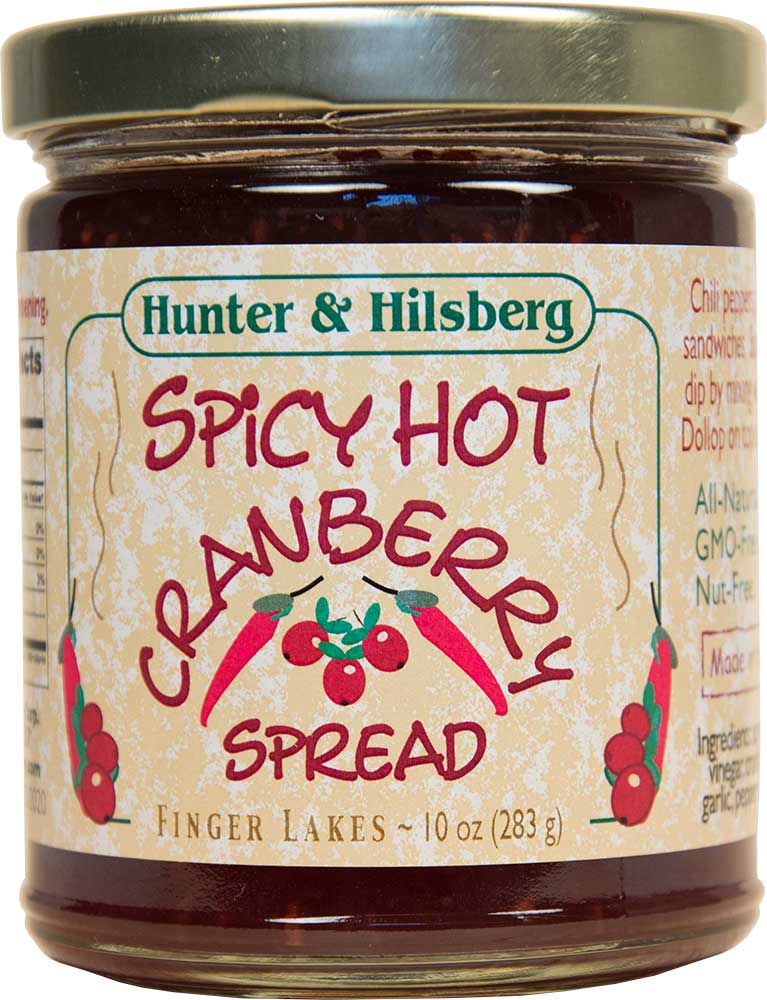 4-Pack: Spicy Hot Cranberry Spread
Set of 4 - 10 oz each
A phenomenon among those who have tried it, our special Hot & Spicy Cranberry marinade and dip recipe calls for cranberries, chili peppers, and garlic - to name a few of it´s exciting ingredients. It makes a great basting spread for roasted turkey, chicken or pork.  Dab onto cheese and crackers, or use as a topping for baked cheese, such as cheddar or camembert. HOWEVER...our family's favorite use is as a dip to liven any gathering. Here are two tasty presentation techniques for a dipping:

- Mix with even parts sour cream in a dipping bowl. Serve alongside chips, crackers or freshly cut vegetables.

- Spread plain cream cheese about 1/4 inch thick along the bottom of a flat casserole dish. Spread equal amounts of our spicy cranberry over the cream cheese as a second layer. Serve alongside pretzels, chips or freshly cut vegetables as a layered dip.

Naturally a fat-free product.
Ingredients
  Cranberries, Garlic, Hot Peppers, Cider Vinegar, Pure Cane Sugar, Pectin.
Additional Information
  •  Gluten-Free  
  •  Vegan & Dairy-Free
  •  Grain-Free
  •  GMO-Free
  •  All-Natural
  •  No added flavors  
  •  No preservatives
  •  No MSG
  •  Packaged in recyclable glass
  •  Made in the Finger Lakes Region


Allergen Information

If this product contains any known allergens they may be listed here:



The information on this page is to provide a preliminary overview and may not be up-to-date, accurate or complete! Rely solely on the individual product labeling that accompanies the actual product to review the ingredient listing and check for allergens or other product data that may be of concern to you prior to preparation and consumption.
UPC:  180001001111
Condition: new
---
---
More from this collection