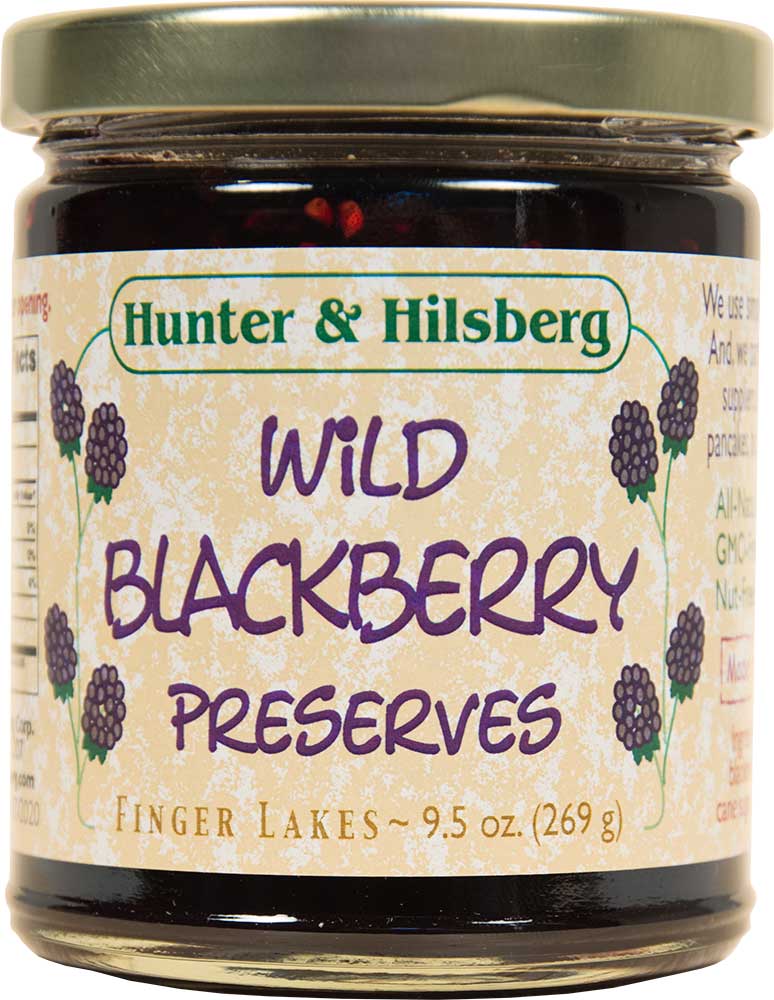 4-Pack: Blackberry Preserves (Wild)
Set of 4 - 9.5 oz each
Sweet wild blackberries (also known in our neck-of-the-woods as Thimbleberries) are hand-picked and prepared the old fashioned way: not thickened or caramelized as many do today, but rather coated in sugar, quickly heated to a high temperature and then sealed immediately to preserve their fresh flavor. Perfect on toast, croissants, waffles, pancakes, cheese or cheesecake!
Wild Blackberry Preserves are an easy ingredient to keep on hand all year in place of fresh berries when making blackberry muffins, bread, scones or even home-made ice cream and sherbet. Mix with cream cheese to make your very own home-made blackberry cream cheese spread. To enjoy as a whole berry sauce, heat and pour over pancakes, waffles, ice cream, vanilla pudding, parfait, cheesecake, brownies or chocolate cake, just to name a few popular serving suggestions.
Ingredients
  Blackberries, Pure Cane Sugar, Pectin.
Additional Information
  •  Gluten-Free  
  •  Vegan & Dairy-Free
  •  Grain-Free
  •  GMO-Free
  •  All-Natural
  •  No added flavors  
  •  No preservatives
  •  No MSG
  •  Packaged in recyclable glass
  •  Made in the Finger Lakes Region


Allergen Information

If this product contains any known allergens they may be listed here:



The information on this page is to provide a preliminary overview and may not be up-to-date, accurate or complete! Rely solely on the individual product labeling that accompanies the actual product to review the ingredient listing and check for allergens or other product data that may be of concern to you prior to preparation and consumption.
UPC:  180001001142
Condition: new
---
---
More from this collection