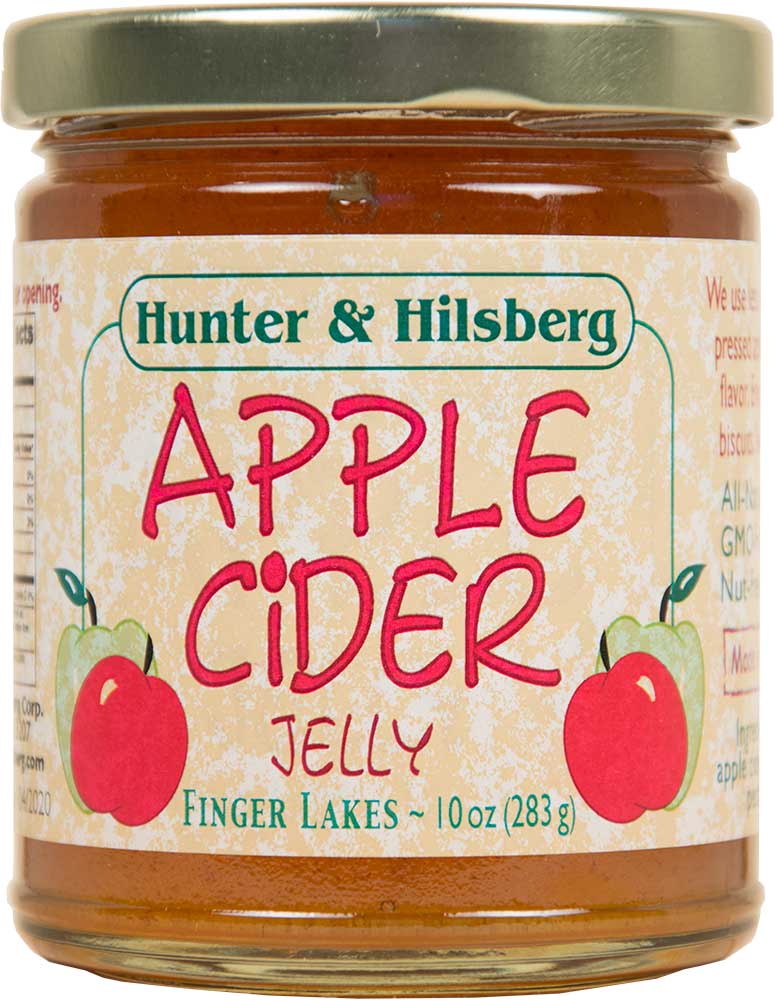 4 Pack: Apple Cider Jelly
Set of 4 Jars - 10 oz each
This is so good - you've gotta try it! Kids have coined it "better than cotton candy" - the ultimate kid compliment! Besides spreading on breads and biscuits (try it on cinnamon raisin bread), Apple Cider Jelly is an old-fashioned cooking staple for sweetening and basting in many recipes. Here are some delicious ideas:
* Basting & glazing meats (ham, pork, chicken, steak), creating a sweet, crispy crust
* Glazing pies (especially apple or pumpkin)
* Try as a low-calorie sweetener: A few tablespoons adds a fresh taste and light sweetness to any marinade, BBQ & grilling sauces, and stir-fry
* Lightly sweeten & add flavor to baked beans, chili, barbecue sauce, sweet-and-sour sauces, cocktail sauce, mustards and catsup
* Add some to the frying pan when sautéing vegetables, such as beans, peppers, onions, garlic, carrots, asparagus or cauliflower, to name a few
* Dollop on cheese & crackers or serve with a charcuterie board
* Decorate shortbread & thumbprint cookies. Top muffins. Use in layered cakes.
* Main ingredient source: Made with 100% cider from apple orchards in the Finger Lakes region of New York State!
This product is a simple ingredient item, consisting of just fruit, sugar and pectin.
Ingredients
  Apple Cider (freshly pressed apple juice), Pure Cane Sugar, Pectin.
Additional Information
  •  Gluten-Free  
  •  Vegan & Dairy-Free
  •  Grain-Free
  •  GMO-Free
  •  All-Natural
  •  No added flavors  
  •  No preservatives
  •  No MSG
  •  Packaged in recyclable glass
  •  Made in the Finger Lakes Region


Allergen Information

If this product contains any known allergens they may be listed here:



The information on this page is to provide a preliminary overview and may not be up-to-date, accurate or complete! Rely solely on the individual product labeling that accompanies the actual product to review the ingredient listing and check for allergens or other product data that may be of concern to you prior to preparation and consumption.
UPC:  180001001289
Condition: new
---
---
More from this collection